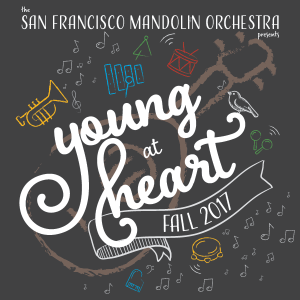 The theme for this November's SF Mandolin Orchestra concerts is "Young at Heart."  We'll celebrate youth, and wistfully look back on our own.
Our youth inspired program includes these wonderful works:
The Toy Symphony by Joseph Haydn or Leopold Mozart. This joyous 18th century classical symphony features a number of toy instruments accompanied by the orchestra, including a toy whistle, drum, and kuckuck.
The Concerto Grosso in G-minor, Op.6 no. 8, by Arcangelo Corelli, better known as "The Christmas Concerto." This work was written in 1714 as part of Corelli's Twelve Concerti Grossi. It is famous for its stunning movement titled "Fatto per la note di Natale ("Made for the Night of Christmas").
Kinderszenen, Op.15 ("Scenes from Childhood") by Robert Schumann. Written in 1838, these thirteen short pieces were inspired by Robert's wife Clara's comment that sometimes he "seemed like a child." The most famous of the thirteen pieces is the "Träumerei," whose sentimental theme has been used in a number of films, including "Song of Love."
Elegia e Tarantella by Giovanni Bottesini, a 19th century Italian romantic composer, conductor, and double bass virtuoso. These two pieces, originally for double bass, have been transcribed by Achille Bocus, our conductor, who will also be featured on solo mandolin. Like Bottesini, Achille Bocus' early career was as a double bass player.
Concerts will be held in Piedmont, San Francisco, and Palo Alto, all starting at 4:00pm.  Here are the details:
Piedmont:
Saturday, November 4 at 4:00pm
Piedmont Center for the Arts
801 Magnolia Avenue
Map | Tickets | Facebook Event
San Francisco:
Sunday, November 5 at 4:00pm
Mission Dolores Chapel
3321 16th Street
Map | Tickets | Facebook Event
Palo Alto:
Sunday, November 12 at 4:00pm
All Saints Episcopal Church
555 Waverley Street
Map | Tickets | Facebook Event
Concerts are family-friendly.  Admission is $20 general, $15 student/senior, and free for children 12 and under.  Tickets may be purchased at the door, or at our ticketing site.