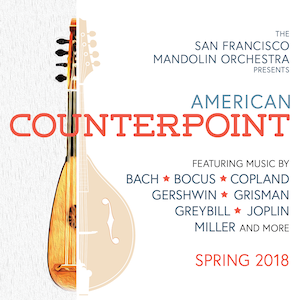 coun·ter·point ˈ(koun(t)ərˌpoint/)
Complimentary ideas, arguments, or themes that illuminate each other when encountered side by side, especially in music.
Contrast is at the heart of great music. Fast and slow, loud and soft, tension and release, the "counterpoint" of voices—all are prominent in all genres of world music.
American composers in particular use contrast prominently in a variety of unique musical genres. That's why the theme of this SF Mandolin Orchestra season is "American Counterpoint." We'll be exploring a variety American music and contrasting it to J.S. Bach's "Art of Fugue," one of the most famous works of counterpoint by one of the most popular European composers.
We'll encourage you to compare Bach's work with these (and other) American pieces…and see what you discover:
George Gershwin's "Prelude II" transcribed for mandolin orchestra.

"Walnut Valley Suite," a three movement piece by award-winning mandolin player and composer Bruce Graybill.

"Happy Birthday Bill Monroe," by Bay Area mandolin legend David Grisman.

The world premiere of "Adagio Misterioso," by our music director Achille Bocus.

Big-band legend Glenn Miller's 1939 hit "Moonlight Serenade."
Concerts will be held in Piedmont, San Francisco, and Palo Alto.  Here are the details:
Piedmont:
Saturday, May 5 at 4:00pm
Piedmont Center for the Arts
801 Magnolia Avenue, Piedmont
Map | Tickets | Facebook Event
Palo Alto:
Sunday, May 13 at 4:00pm
All Saints Episcopal Church
555 Waverley Street, Palo Alto
Map | Tickets | Facebook Event
San Francisco:
Sunday, May 27 at 5:00pm
Mission Dolores Chapel
320 Dolores Street, San Francisco
Map | Tickets | Facebook Event
Concerts are family-friendly.  Admission is $20 general, $15 student/senior, and free for children 12 and under.  Tickets may be purchased at the door, or at our ticketing site.