Upcoming Events
Season 24: Young at Heart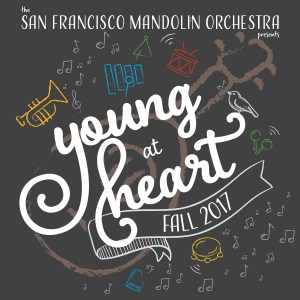 The San Francisco Mandolin Orchestra will be presenting its Fall 2017 concerts at three locations this November:  San Francisco, Palo Alto, and Piedmont.
Our theme:  "Young At Heart," a celebration of youth and a wistful look back at our own. We'll feature works with a youth connection, including:
The Toy Symphony by Joseph Haydn or Leopold Mozart
The Concerto Grosso in G-minor by Arcangelo Corelli, better known as "The Christmas Concerto"
Kinderszenen, Op.15 ("Scenes from Childhood") by Robert Schumann
Elegia e Tarantella by Giovanni Bottesini, featuring our music director Achille Bocus on solo mandolin
Here are the concert details:
Piedmont:
Saturday, November 4 at 4:00pm
Piedmont Center for the Arts
801 Magnolia Avenue
Map | Tickets | Facebook Event
San Francisco:
Sunday, November 5 at 4:00pm
Mission Dolores Chapel
3321 16th Street
Map | Tickets | Facebook Event
Palo Alto:
Sunday, November 12 at 4:00pm
All Saints Episcopal Church
555 Waverley Street
Map | Tickets | Facebook Event
Concerts are family-friendly.  Admission is $20 general, $15 student/senior, and free for children 12 and under.  Tickets may be purchased at the door, or at our ticketing site.
For more information about these performances visit Fall 2017 Concert Dates.
For additional news, sign up for our email newsletter using the form on the right.