Upcoming Events
Season 23: Stabat Mater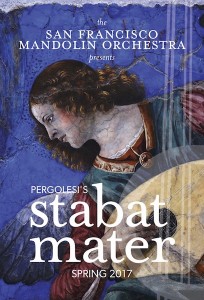 The San Francisco Mandolin Orchestra is performing Giovanni Battista Pergolesi's stunning Stabat Mater in two Bay Area Concerts April 8 and 9.
Stabat Mater is scored for orchestra and two voices.  The Orchestra will be joined by two renowned Bay area singers: soprano Susan Gundunas and alto Twila Ehmcke.  The concerts will also feature Samuel Barber's Adagio for Strings.
Concerts will take place in both Palo Alto and San Francisco:
San Francisco:
Saturday, April 8 at 7pm
Old First Presbyterian Church
1751 Sacramento Street
Map | Tickets | Facebook Event
Palo Alto:
Sunday, April 9 at 4pm
All Saints Episcopal Church
555 Waverley Street
Map | Tickets | Facebook Event
Tickets for both concerts are available online or at the door.
Admission: $18 General, $10 Students/Seniors. (Note: door tickets are cash only.)
Concerts are family-friendly, and admission is free for children 6 and under.