Home
Upcoming Concerts: Pergolesi's Stabat Mater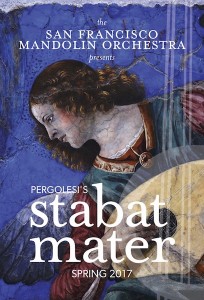 The San Francisco Mandolin Orchestra is performing Giovanni Pergolesi's stunning Stabat Mater in two Bay Area Concerts April 8 and 9.
Stabat Mater is scored for orchestra and two voices.  The Orchestra will be joined by two renowned Bay area singers: soprano Susan Gundunas and alto Twila Ehmcke.  The concerts will also feature Samuel Barber's Adagio for Strings.
Concerts details:
San Francisco:
Saturday, April 8 at 7pm
Old First Presbyterian Church
1751 Sacramento Street
Map | Tickets | Facebook Event
Palo Alto:
Sunday, April 9 at 4pm
All Saints Episcopal Church
555 Waverley Street
Map | Tickets | Facebook Event
For more information about these performances visit Spring 2017 Concert Dates.
About the San Francisco Mandolin Orchestra
The San Francisco Mandolin Orchestra is a plucked string orchestra with 15-25 members playing instruments of the mandolin family (mandolin, mandola and mandocello), as well as guitar, viola da gamba and double bass.
Learn more about us:
To receive updates on our concerts please "like" us on Facebook or use the form on this page to sign up for our newsletter.
Do you play mandolin or guitar? We're always interested in talking to musicians who might like to join us.
If you would like to support our group, we are a non-profit organization, and we welcome donations. You can also contact us to book music for a private event.